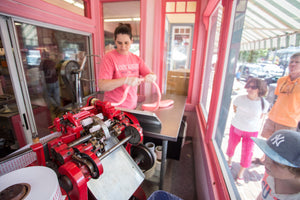 A Cape Cod Tradition
Kandy Korner's taffy is homemade daily. The taffy is cooked the old fashion way, in small batches to insure the best quality and flavor.
After the taffy is cooked it is then stretched and wrapped. The taffy-wrapping machine is a 97-year-old model K Kiss design, which wraps 150 pieces per minute on high speed. 
There is nothing like walking into Kandy Korner and getting a freshly wrapped, warm and chewy piece of salt-water taffy.
The variety of flavors ranges from sweet and fruity, to rich and chocolaty. Kandy Korner's salt-water taffy is a delicious treat that will leave your taste buds longing for more. You can even buy a pound box of mixed taffy to bring home with you.
Kandy Korner on Instagram